A Tincture of Murder (A Lord Danvers Mystery)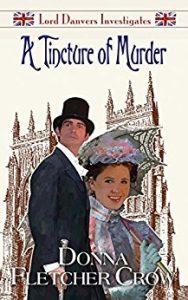 Victorian England
The case begins when several of the destitute women who took refuge at The Magdalen House—an "Asylum for Poor, Degraded Females"—die under mysterious circumstances.
The Magdalen House—located in a notorious slum of the City of York—was established by Frederick Danvers, Lord Charles's younger brother, who shocked the family by taking Holy Orders, and then by choosing to live near his church in one of the poorest neighborhoods in England.
But the cleric's saintly works may come to a scandalous end when news of the women's deaths spreads. The young Danvers is in trouble and Danvers family honor is at stake.
At first, Lord Danvers is reluctant to get involved in a criminal matter that seems so sordid. But when a devastating fire ravages Norwood Park, the Danver's ancestral home, Charles and Antonia are forced to seek temporary residence elsewhere. Freddie's plea for assistance includes an invitation to stay at elegant Wandseley Hall. Charles reconsiders—and soon finds himself struggling to answer two overarching questions: Are the unexplained deaths the result of natural causes? Or is an insane poisoner at large in York—perhaps a madman among Charles and Antonia's own acquaintances?
While Charles investigates, Lady Antonia is drawn into helping feed the impoverished women and children living in the asylum.
And death is closer to home than anyone suspected. Was a servant's untimely death an accident as first believed? Or something more sinister? And who set the fire that nearly destroyed Norwood Park?