My new book is out this very month! Hooray! And I'm the Author Visit….but it seemed a little weird to interview myself. 🙂 So, I thought I'd give away a package of books that would show up in the same Index search that A Bride in Store would pop up in.
Have you checked out the new search capabilities in the right hand side of the Index? If you were to go down to "Main Character Occupations" and select "Mercantile/Shop Keeper" and hit the "Submit Search" button, you'd find my book and these others that I'm giving away.
Keli Gwyn has been nice enough to sign hers for the winner! (Check out Keli's website, it's so pretty!)
So the GRAND FIRST PRIZE is the top SEVEN books that show up in the search. Keli's and mine will be signed. Hope the winner likes reading about Mercantiles! 🙂
And a SECOND PRIZE will be a single copy of A Bride in Store, signed by me. 🙂
~~~~~~~~~~~~~~~~~~~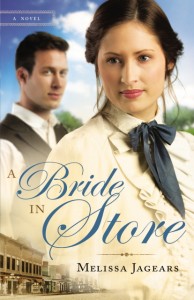 A Bride in Store
1881 – Kansas
Impatient to meet her intended groom and help him grow his general store, mail-order bride Eliza Cantrell sets out on her travels a week early. But her plan goes sadly awry when her train is held up by robbers who steal her dowry and Axel, her groom-to-be, isn't even in town when she finally arrives.
Axel's business partner, William Stanton, has no head for business and would much rather be a doctor. When his friend's mail-order bride arrives in town with no money and no groom in sight, he feels responsible and lets her help around the store–where she quickly proves she's much more adept at business than he ever will be.
The sparks that fly between Will and Eliza as they work together in close quarters are hard to ignore, but Eliza is meant for Axel and a future with the store, while Will is biding his time until he can afford medical school. However, their troubles are far from over when Axel finally returns, and soon both Will and Eliza must decide what they're willing to sacrifice to chase their dreams–or if God has a new dream in store for them both.
A Bride Opens Shop in El Dorado, California

1870- California
Widow Elenora Watkins heads to California with her nine-year-old daughter, Tildy, eager to become a partner in a mercantile. When the mulish owner withdraws his offer because she's a woman, she opens her own shop. She's determined to prove herself capable of running a successful business without the help of anyone—including her controlling father, her seemingly distant heavenly Father, and one Miles Rutledge.
Widower Miles Rutledge is not about to get involved with another willful woman like his late wife, especially when she's his competition. But the beautiful Elenora may be too hard to resist. When another man appears out to claim Elenora's heart, Miles searches for a way to win her back. . .while putting her out of business.
Meanwhile, Maude Rutledge, Miles's meddling mother, longs to see her son make a good match. And Tildy is just as bent on gaining a loving papa.
The battle of wills begins, but can anyone win when the competition is more than they bargained for?
1891 – Pennsylvania
Join Kelly McGregor as she drives her overbearing father's mules along Pennsylvania's Lehigh Canal. Despite the daily drudge, she dreams of one day owning an art gallery where her own drawings and paintings are on display. But these dreams don't include marriage. . .not after seeing what her father has done to her mother. How then can Mike Cooper, a general store owner, make her realize he is different than her father and wants to support her artistic talent? Will Kelly learn that dreams can walk hand in hand with a love created by God?
1860 – Colorado
Annie Whitaker has always been a Plain Jane. But in the bustling gold-rush town of Cañon City, Colorado, she turns heads, especially that of cowboy Caleb Hutton. Annie's seen Caleb many times in her father's mercantile, and she's surprised and pleased when he takes a special interest in her.
Caleb's faith was shattered when his fiancée jilted him for a wealthier man. But as he gets to know Annie, his view of women—and God—soon takes a turn for the better. Can Annie's steadfast faith help the former preacher find his way back to his calling and a second chance at love?
Remember Me When: A Women of Hope Novel

1880 – Oregon
Inspired by the biblical story of Abigail in 1 Samuel, a Christian woman stands up for what is right, despite life-threatening consequences.
When Faith married her husband Roger Nolan he seemed to be an upstanding businessman, owner of a remote mercantile outside the town of Bountiful, Oregon. But Faith quickly learned the truth-that her husband is dishonest in his business practices and likes his liquor, turning mean when he indulges. When Faith discovers that Roger has yet again failed to deliver critical winter supplies to Nathan Bartlett, owner of the nearby logging camp, she takes the order up the mountain herself. Furious, Roger confronts Faith when she returns, and she is knocked unconscious. When Faith wakes, she finds Roger dead in a pool of his own blood, and she soon stands accused of murder.
Having fought in the War Between the States, Nathan has seen enough violence to last a lifetime. He has always admired Faith's quiet strength and integrity and finds it hard to believe such a gentle woman capable of harming anyone. However, Nathan begins to struggle with his instinct to protect Faith when evidence mounts against her.
As more and more people begin to think Faith is guilty, only her trust in God can give her the hope she needs to survive this trial.
Trouble in Store

1885 – Ohio
Fired from her most recent governess position, Melanie Ross must embrace her last resort: the Arizona mercantile she inherited from her cousin. But Caleb Nelson is positive he inherited the mercantile, and he's not about to let some obstinate woman with newfangled ideas mess up all he's worked for. He's determined to get Melanie married off as soon as possible, and luckily there are plenty of single men in town quite interested in taking her off his hands.
The problem is, Caleb soon realizes he doesn't want her to marry up with any of them. He's drawn to Melanie more every day, and he has to admit some of her ideas for the store unexpectedly offer positive results.
But someone doesn't want the store to succeed, and what used to be just threatening words has escalated into deliberate destruction and lurkers in the night. When a body shows up on the mercantile steps–and the man obviously didn't die from natural causes–things really get dangerous. Can Melanie and Caleb's business–and romance–survive the trouble that's about to come their way?
Twice Promised (The Blue Willow Brides)

1888 – Colorado
Seeing how successful her older sister's "mail order marriage" has been and longing to strike out on her own, Greta Olsen answers an ad for a mail order bride in Central City, Colorado. But when she meets Jess Gifford, owner of a thriving mercantile, she begins to harbor doubts. He didn't place the ad to begin with and his business in a busy mining town leaves him little time or energy for love. To compound her troubles, she was not the only bride to answer the ad! Will either bride strike the match she hopes for?
By the way, if you follow the Index's Facebook page, I put up all the freebies and deals in the genre there. If you're as much a fan as me, see them show up in your Facebook newsfeed! Like the Index's page!
Enter the Rafflecopter below!