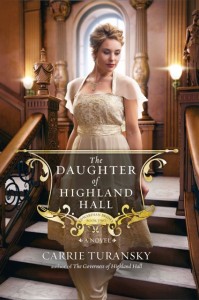 Book two in the Edwardian Brides Series, The Daughter of Highland Hall, follows 18-year-old Kate Ramsey on a journey of faith and self-discovery as she travels to London to make her debut in society. Her overbearing aunt insists she secure a marriage proposal from a wealthy, titled man to gain a position and secure her future. As Kate begins making the round of balls and garden parties, she attracts the attention of Edward Wellington, who seems to have all the qualifications she is looking for, yet, she's not sure if he is the best choice. Will that lifestyle bring her true happiness?
When a shocking family scandal forces Kate out of the social spotlight, she has time to volunteer with medical student Jonathan Foster, the handsome and caring brother of her governess. Jonathan, a strong Christian, is determined to help the poor in London's East End. As her friendship with Jonathan deepens and her faith grows, Kate begins to envision a different kind of future, one that includes Jonathan. Is she ready to make the sacrifices that choice would require? If she does, what will her family and society think? Downton Abbey meets Pride and Prejudice in this pure romance.
********************************************************************************
Questions about Carrie's book
What did you enjoy most about writing this book?
I loved learning about a debutante's royal court presentation, which was a coming out ritual for aristocratic young women. It announced they were ready to enter society, take part in the events of the London season, and meet their prospective husband. Young women spent months preparing and practicing their curtsy, which they would make before the king and queen. There were several dress fittings for a beautiful white dress that must be unique but follow the rules of court dress. Flowers for her bouquet and to decorate her coach must be ordered. Jewelry and an ostrich feather headpiece were purchased. An older woman who had been presented when she was a debutante must act as her sponsor and accompany her to the presentation. It was an exciting but also nerve-wracking event for these young women . . . and especially for my heroine, Kate Ramsey.
Did you include a real historical character or incident in your story?
I wanted my wealthy young heroine to be inspired to consider the needs of the poor, so I had her attend a lecture given by Catherine Bramwell-Booth, who was the granddaughter of General William Booth, the founder of the Salvation Army.  The Salvation Army began in England in the mid-1800's and was known for meeting both spiritual needs and physical needs of the poor. I wanted readers to "meet" Christians who lived out their faith and made an impact for Christ, so I am happy I can introduce them to the Booth family.
What research book or website used to write this book was your favorite to peruse?
I love Evangeline Holland's blog, Edwardian Promenade. She has pages and pages of information about all aspects of Edwardian life. She took time to answer my questions about English forms of address for titled members of the family and was very helpful. She's is a fellow Downton Abbey Fan too! Edwardian Promenade.
Did you stumble upon anything in your research for this book that made you sad?
The living conditions of the poor on London's East End was heart wrenching. That's one reason I wanted my hero and heroine to reach out and make a difference there. I was especially touched by photos of children living on the East End in the early 1900's. Take a look at my Pinterest board.
What is your home on the internet?
Other books in this series?
********************************************************************************
Questions about Carrie's Reading
What Christian Historical Novel did you reread last, and why did you reread it?
Several friends recommended I read Blackmore by Julianne Donaldson. I've read it twice and just listened to the audio version. That was a whole new experience. I loved it just as much this time…maybe even more hearing it read aloud by a wonderful British narrator, Cassandra Campbell. It's set in England during the Regency period, with a wonderful hero and heroine, and great romantic tension. It's a pure and proper romance that very much reminds me of a Jane Austen novel. I highly recommend it to those who enjoy English historical romance.
What Christian Historical Novel are you most excited to read that hasn't yet come out?
I'm looking forward to Julie Klassen's next novel, The Secret of Pembrook Park. I've enjoyed several of Julie's books. Her research is exceptional, and she always makes me feel like I've been whisked back to England when I read one.
What Christian Historical Novel in your To Be Read pile is begging you to make time to plop down with it right now?
I have an advanced copy of Into the Valley of Secrets by Cathy Gohlke. I am so excited to read her next book! Cathy and I are good friends, and we often brainstorm ideas for books…so I can't wait to see how this WW2, time-slip novel has come together.
********************************************************************************
Carrie has been nice enough to offer one paperback of The Daughter of Highland Hall to a US resident. I'll give away a copy of any book mentioned (besides that advanced copy that's not out!) in the interview in ebook form. Enter the Rafflecopter below!
Also check out her special giveaway:
We will be celebrating the release of The Daughter of Highland Hall with a giveaway hosted on my blog: http://carrieturansky.com/index.php/blog/   Readers can enter for a chance to win one of 5 prizes packages that will include copies of the book, tea cups, tea time cookbook, tea towels, and other English tea-themed gifts. The giveaway will run Sept 30th – October 31, with giveaways Oct 7th, 10th, 17th, 24th, and 31st.