Come Fly with Me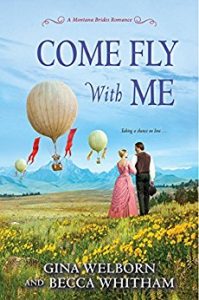 1886 – Montana
New beginnings await in Helena, the Montana Territory's most exciting city—where faithful hearts stay strong and true as they pursue their passionate dreams.
Dedicated schoolteacher Luanne Palmer is forbidden to engage in public courtship. So she hides her feelings for Roy Bennet, the free-spirited journalist who has her in awe of his hot air ballooning adventures. In any case, with his roving lifestyle and career ambitions, Roy hardly seems suited to the home life Luanne desires. She will simply have to resist his charms until he leaves town on his next assignment.
But when Roy hears that Luanne's students are enthralled in the craft of ballooning, he can't pass up the opportunity to impress Luanne in her classroom. Soon, Luanne must decide how much to risk on a love that challenges everything she thought she wanted . . . and only a heart-pounding race among the clouds will determine which direction their future takes . . .
Save
Save