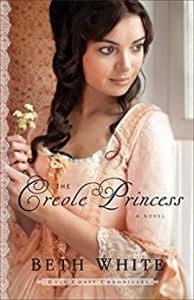 The Creole Princess
1776 – Alabama
Torn between loyalties to family and flag, one young woman is about to discover that her most important allegiance is to her heart.

It is 1776, and all along the eastern seaboard the American struggle for independence rages. But in the British-held southern port of Mobile, Alabama, the conflict brewing is much quieter–though no less deadly.
Lyse Lanier may be largely French in heritage, but she spends most of her time in the company of the ebullient daughter of the British commander of Mobile. When a charming young Spanish merchant docks in town, Lyse is immediately struck by his easy wit and flair for the dramatic. But is he truly who he makes himself out to be? Spies abound, and Spain has yet to choose a side in the American conflict. Is Lyse simply an easy mark for Rafael Gonzalez to exploit? Or are his overtures of love as genuine as Spanish gold?
With spectacular detail that brings the cultural gumbo of the Colonial Gulf Coast alive, Beth White invites you to step into a world of intrigue and espionage from a little-known slice of the American Revolutionary War.