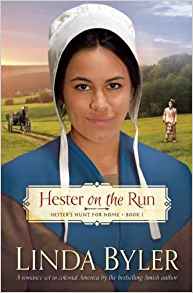 Hester on the Run
Colonial – Pennsylvania
The setting is the beginning of an Amish settlement in colonial America in the forests of eastern Pennsylvania. There, a young Amish couple, Hans and Kate Zug, are in their ninth year of marriage, still waiting to have a child. Then, one April morning, Kate finds a Native infant, wrapped in deerskin and placed next to the spring where she went to fill her water bucket.
Kate and Hans cherish Hester, despite the pointed question of Hans's mother—"What makes you think you can raise her Amish, with her Indian blood?"
Struck by his daughter's unusual beauty, Hans insists on choosing the fabric for her handmade dresses. And when his and Kate's first son is born a year later, Hans despairs of his homely face and nearly bald head. In fact, Hans continues to give his fullest attention and affection to Hester, even as eight more children are born to him and Kate.
Hester glows as she grows, an unmistakable beauty both inside and out, and charms her adopted Amish community. But then, an elderly Lenape woman hands Hester a package of medicinal herbs to rout an infection that is threatening Kate's life. A trust passes between the wizened and the youthful Native women. In that moment, Hester recognizes that she belongs to two worlds, both intent on possessing her. When Amish Indian Hester realizes that she must leave her tension-filled home for her sake and her father's, she takes only two possessions: the leather-bound book of remedies left for her by the old Lenape woman and her memories of the Amish ways.