Land of Promise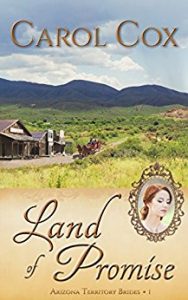 1867 – Arizona
Elizabeth Simmons longs to escape the mold society has for her and realize her dreams of independence.
When offered a job caring for an injured family acquaintance, Elizabeth gladly leaves her pampered life in Philadelphia behind and sets off for the newly-formed Arizona Territory. However, she soon discovers the awful truth behind her new arrangement.
Michael O'Roarke stepped away from bright prospects back East in order to keep tabs on his unprincipled father in frontier Arizona. That burden, along with the demands of starting his own freighting business, claims all his attention…until he finds himself captivated by the feisty Elizabeth.
Will losing her heart to Michael undermine the independence Elizabeth has worked so hard to achieve? Or could this land of danger and hardship also prove to be her land of promise?