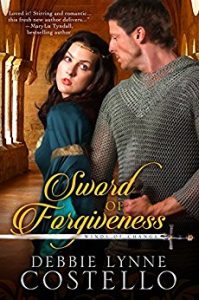 Sword of Forgiveness
1398 – England
When her father died, she had promised herself no man would own her again, yet who could defy an edict of the king?
After the death of her cruel father, Brithwin is determined never again to live under the harsh rule of any man. Independent and resourceful, she longs to be left alone to manage her father's estate. But she soon discovers a woman has few choices when the king decrees she is to marry Royce, the Lord of Rosencraig. As if the unwelcome marriage isn't enough, her new husband accuses her of murdering his family, and she is faced with a challenge of either proving her innocence or facing possible execution.
Royce of Hawkwood returns home after setting down a rebellion to find his family brutally murdered. When all fingers point to his betrothed and attempts are made on his life, Royce must wade through murky waters to uncover the truth. Yet Brithwin's wise and kind nature begin to break down the walls of his heart, and he soon finds himself in a race to discover who is behind the evil plot before Brithwin is the next victim.