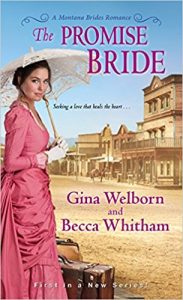 The Promise Bride
1887 – Montana
In a booming frontier town, a heavenly match may be in store for mail-order brides seeking a fresh start . . . women of strength and spirit who embrace the challenges of life and love in the wild Montana Territory.
 
Determined to save her father and siblings from a crumbling Chicago tenement, Emilia Stanek becomes the long-distance bride of a Montana rancher. But when she arrives in Helena, a rugged lawman shatters her plans with the news that her husband is dead—and deeply in debt.
 
County sheriff Mac McCall can't afford to be distracted by the pretty young widow, not with scandalous secrets emerging as he investigates his friend's suspicious death. Mac's gruff order that she leave town at once only spurs Emilia's resolve to take ownership of her late husband's ranch and face his debtors. But as her defenses soften, Emilia begins to accept Mac's help, feel compassion for his own wounded heart—and learns that trust means taking a leap of faith . . .
Save
Save
Save