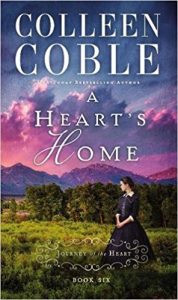 A Heart's Home
Post Civil War – Wyoming
Emmie's hope for a life with Isaac is overshadowed by a tragic loss at Fort Phil Kearny.
Isaac Liddle is keen to marry Emmie, and she knows she shouldn't hide her pregnancy from him any longer. But before she can tell him her secret, a widower friend asks the impossible of Emmie: Will she honor her promise to his dead wife by marrying him to care for the orphaned baby?
With the Sioux Wars threatening outside the fort, Emmie's solemn vow threatens her happiness from within. Will she honor a promise sure to break her heart—and Isaac's? Or is there another way to find a home for her heart?