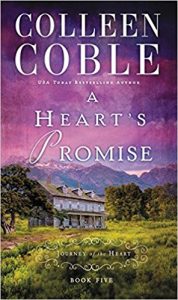 A Heart's Promise
Post Civil War – Wyoming
Emmie makes a promise to her friend that, if fulfilled, could mean the end to her dreams of a future with Isaac.
Emmie Croftner let Isaac Liddle go to avoid telling him about her past. But Isaac remains determined to win Emmie's heart and hand. Though Emmie resolves to keep her heart in check, it hurts when she sees that another woman has set her bonnet for Isaac.
Then Emmie's dear friend extracts a costly promise: if anything happens to her in childbirth, Emmie will marry her widower and raise the baby herself. And it seems Emmie may have to fulfill that promise. But can she live happily without Isaac?