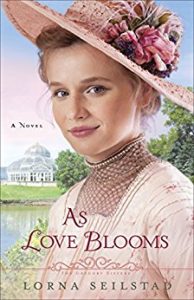 As Love Blooms
 1913 – Minnesota
Young romance opens like a rose . . . but even a rose has its thorns.

Tessa Gregory is nothing if not tenacious. Denied a position as a horticulturist at prestigious Como Park in Saint Paul, Minnesota, she is not above a little benevolent deception in order to get the park superintendent to change his mind and hire her. She plans to infiltrate the world of wealthy and influential people in hopes of drumming up financial support for a world-class conservatory. But before she can put those plans into action, she meets Reese King, a handsome gardener at Como Park–and a major distraction. Still, Reese might be the key to achieving her dream. But is his goal to help her . . . or to capture her heart?
Against the lush backdrop of manicured gardens and greenhouses full of the exotic, Lorna Seilstad weaves a sweet and sassy story that is sure to delight.