Today, we have a visit from Laurie Alice Eakes, don't miss the giveaway at the end. Hope you enjoy the interview! Isn't the cover gorgeous?
A tarnished reputation. A distant home. A forced engagement to a dangerous man.
When Elizabeth Trelawny flees London, she has more than one reason to run. And when her carriage, pursued by her would-be fiancé, is caught in a storm, she quickly accepts the help of a dark stranger. Anything to get back to Cornwall. Rowan Curnow is not exactly a stranger. Not quite a gentleman either, class disparity once kept him from courting Elizabeth. . . Even if it didn't keep him from kissing her. The couple elude their pursuers and reach Bastion Point, Elizabeth's future inheritance and the one place she calls home. But in the very act of spiriting her to safety, Rowan has jeopardized Elizabeth's inheritance—if her grandfather ever learns she spent the night, however innocently, in the company of a man . When smugglers unite the pair in a reckless, flirtatious alliance—an alliance that challenges the social norms that Elizabeth has been raised to revere and rattles Rowan's fledgling faith in God—Elizabeth must choose between the obedience of a child and the desires of a woman: whether to cling to the safety of her family home or follow the man she loves.
************************************
Questions about Laurie Alice's Book
What did you enjoy most about writing this book?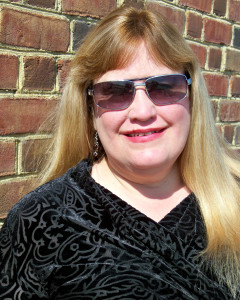 One thing that excites me about this book is that I came up with the idea a gazillion years ago, but the time was just never right to try to sell it to a publisher—location, time period, theme were all wrong. Then, at last, everything fell into place and I got to tell these characters' story.
Which scene is your favorite, the one you never tired of working with?
One scene I knew was coming up, in the second half of the book, that I actually wanted to write so much I wrote it ahead, is when Elizabeth and Rowan go to a horse fair. For once in her life, Elizabeth forgets the restrictions of her life and is able to be the person she wants to be—and I could give the romance a leap forward here as well, which is always fun for this romantic soul.
(Melissa says: Oh, I love romance leaping scenes! )
Why did you choose the year your book is set?
The year is 1811. This is considered to be the first year of the Regency, and I wanted to use that year for that reason. Also, because I have American characters, I didn't want to use a later year and have the two countries at war with on another.
If you could be guaranteed to publish a book set anywhere and at anytime, what setting would you love to set a novel in?
I'm trying to decide between two time periods here. Both are revolts against the Crown of England. One is the English Civil War in the 1640-50s, and the other is the American Revolution. Perhaps I have a rebellious spirit.
Where is your home on the web?
BONUS – Laurie Alice has another book out at the same time: The Honorable Heir:
Catherine, Lady Bisterne, returns to Tuxedo Park cloaked in scandal, the widow of a nobleman who'd loved only her fortune. As she sets out to repair her family's reputation, another Englishman in her midst is seeking reparations of a different sort. While Lord Tristram Wolfe may suspect that Catherine has stolen the Bisterne jewels, he looks at her in a way her husband never had.
As Tristram's investigation continues, one thing becomes clear: the only thing Lady Catherine has ever stolen is his heart. But can he convince her to trust another English nobleman…and take a second chance on love?
************************************
Questions about Laurie Alice's Reading
Which book got you hooked on reading Christian Historicals?
Sometime in the late 1980s, I was seeking books that weren't full of…inappropriate to read materials. The librarian suggested a couple of inspirational romances. I didn't know such a thing existed. One was just all right and I don't recall the name, but the other was called Love's Fragile Flame and I loved it. A long time passed before I felt called to write Christian fiction, and I never forgot that book.

(Melissa says "It's an old Bethany House book, but she has it out on ebook with a different cover, so click to the picture to go to Amazon and check it out. I'm SO happy that ebook self-pubbing is available now for all those authors whose backlists are sold out. Some great books from way back are happily on my kindle that wouldn't have been on my shelf any other way!")
Which was the last Christian Historical Novel you read, and what was your favorite thing about it?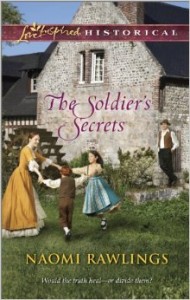 The Soldier's Secret by Naomi Rawlings. I loved the setting, as I am fond of France (studied there in college) the French Revolution, etc., and I simply loved the uniqueness of the story.
************************************
Laurie Alice has been gracious to offer one copy to a lucky winner. Laurie Alice wants to hear the answer to her question and then if you want extra chances, more will show up after you write a blog comment and then tell me you commented in the rafflecopter. Good luck!