Wait a minute. Wasn't Naomi Rawlings just on here? Why yes she was back in January with The Wyoming Heir! She's got two out this year, and being my lovely crit partner and friend, I hope you all are putting these on your wishlist if not buying them immediately! Love Inspired paperbacks sell out quickly, so if you want a paper copy of The Soldier's Secrets, order this month!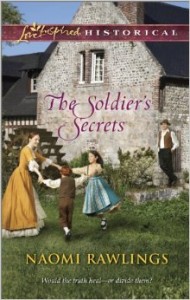 Brigitte Dubois will do anything to keep her family safe. When she is blackmailed by her father-in-law, his quest for revenge leaves her no choice. To protect her children, she must spy on the man who may have killed her husband. But Jean Paul Belanger is nothing like she expected. The dark, imposing farmer offers food to all who need it, and insists on helping Brigitte and her children.
Everything Jean Paul did was in the name of liberty. Even so, he can never forgive himself for his actions during France's revolution. Now a proud auburn-haired woman has come to his home seeking work and has found her way into his reclusive heart. But when she uncovers the truth, his past could drive them apart….
***************************************************
What character in your book turned out to be your favorite?
The hero, Jean Paul Belanger. I love taking a former troublemaker and getting to reform him (or her).
(Melissa says, you and Julie Lessman. 🙂 Though I ended up liking Jean Paul better than I did Charity. I'm still out on her, I'll have to read more to the series to see if Charity ever wins me over!)
Which scene is your favorite, the one you never tired of working with? Give us a reason to look forward to it.
I have one scene where my heroine, Brigitte, is trying to defend Jean Paul to one of her father-in-law's guards. She's very ardent in her defense, claiming he's gentle, caring, and compassionate, but the entire time, she has doubts in her head. As much as she wants to believe Jean Paul, she doesn't really know if she can trust him. It was a fun scene to write with the conflicting emotions and war inside my heroine's head.

Why did you choose the year your book is set?
This book is a sequel to my first novel, Sanctuary for a Lady. So I had to choose something set after 1794, and I wanted a relatively peaceful time of the French Revolution so that I could focus on matters on Jean Paul's farm rather than an invading army or some such. That made the summer of 1795 (about a year after my first novel takes place) the perfect time.
Other Books in this Series: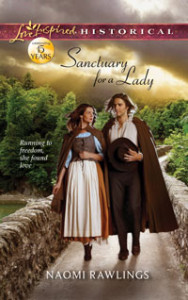 What is your home on the web?
***************************************************
Questions about Naomi's Reading

What other Christian Historical Novels are similar to yours in setting or storyline?
The first book in my Belanger Family Saga, Sanctuary for a Lady, is similar, of course. Another Christian novel set during the French Revolution is Love's First Light by Jamie Carie.
If your job was to sell one author's historical fiction (besides your own) which author's wares would you want to peddle?
Melissa Jagears, of course!
Julie Lessman's novels would be a close second though, as would Roseanna White's.
(Melissa says, I'll just pick my favorites of the one's I've read from these. Of course the favorite of my own novels isn't even bought yet, maybe it will be! So I'll just pick the one available 🙂
What Christian Historical Novel are you most excited to read that hasn't yet come out?
A Bride in Store by Melissa Jagears—which releases in September.
I'm also really excited about Circle of Spies by Roseanna White, which released on the same day as my novel. Both of our stories feature spies, which is pretty fun.
What Christian Historical Novel in your To Be Read pile is begging you to make time to plop down with it right now?
Dare to Love Again by Julie Lessman. It's staring at me from my kindle (and has been for the past couple months). All I need to do is open it up and begin reading . . . so why haven't I started it yet??? Am I the only one who procrastinates reading books I know I'm going to like?
(Melissa says: I tend to read scenes and sections over and over at the end of a book I'm enjoying to keep from getting to the end too quickly.)
***************************************************
We are giving away two copies of The Soldier's Secrets – Enter the Rafflecopter this weekend for one of two chances!