Veil of Fire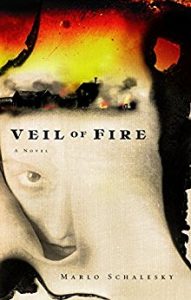 1894 – Minnesota
In 1894, the worst firestorm in Minnesota history descends on the town of Hinckley. Heat, flame, and darkness sweep through the town, devouring lives, destroying hope. In the aftermath, the town rises from the ashes, its people determined to rebuild their lives.
But in the shadows, someone is watching. Someone is waiting. Someone who knows the secrets that can free them all. A rumor begins of a hermit in the hills – a person severely burned, disfigured beyond recognition. Doubts rise. Fear whispers. Is the hermit a monster or a memory? An enemy or a love once-lost?
Based on historical events, Veil of Fire beckons to a time when hope rose from the smoke of sacrifice, when trust hid behind a veil of fear, when dreams were robed in a mantle of fire . . .