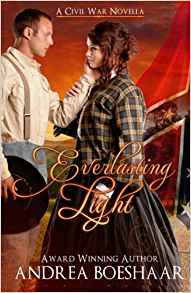 Everlasting Light
1865 – South Carolina
The American Civil War has ended, but Alaina McKenna still awaits news about her husband, Braeden. Did he die in a Yankee prison? Was he buried in a shallow grave on a Virginia battlefield? Or has he turned his back on the specter of death and loss around him and sought solitude west of the Mississippi River, never to return home, again?
As Christmas nears, Alaina deflects the advances of a suitor in the neighboring county, choosing to cling instead to hope and her belief that Braeden will return. As winter's chill settles upon her farm, Alaina cries out to God in one final Christmas Prayer.
When loss lingers, love – even unto and beyond death – for it is through heartbreak that God opens doorways to comfort others.