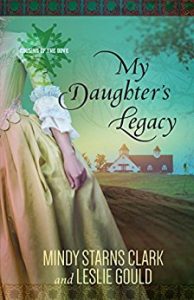 My Daughter's Legacy
1864/Present – Virginia
Virginia, 1864
Therese Jennings cannot abide the thought of owning slaves. When her widowed mother inherits a plantation, Therese flees to Civil War Richmond, where she works as a governess by day and tends to wounded soldiers at night. But when trouble befalls her family, can she reconcile her obligations with her beliefs? And will love—whether with an old beau or a handsome new suitor—ever fit in her broken world?
Virginia, present day
Nicole Talbot's life is back on track after years of substance abuse. Home from college for the summer, she's finally ready to share a shocking secret, one that raises new questions about a traumatic childhood experience. But when facts she uncovers cast doubt on her family's legacy, she must risk all that she's gained—her fresh start, her family's trust, and her growing relationship with a new man—to unlock the secrets of the past.