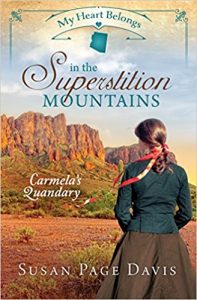 My Heart Belongs in the Superstition Mountains: Carmela's Quandary
1866 – Arizona
Since orphaned at age twelve, Carmela Wade has lived a lie orchestrated by her uncle, pretending to be a survivor of an Indian kidnapping and profiting from telling her made-up story on the speaker circuit. But as she matures into adulthood, Carmela hates the lies and longs to be free. On a stagecoach in Arizona Territory, Carmela and her uncle are fellow passengers with US Marshal Freeland McKay and his handcuffed prisoner.
The stage is attacked. Now a chance to make a new life may suddenly be within Carmela's reach. . .if she can survive the harsh terrain and being handcuffed to an unconscious man.
 
Will Carmela's wish come true, or will she forever be branded by her past?