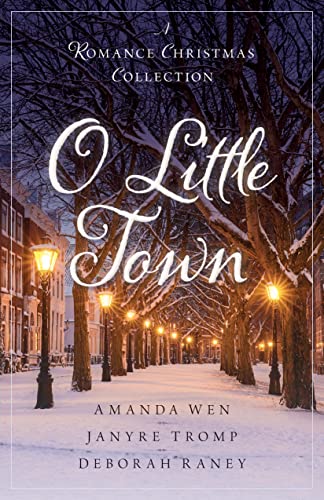 Goodreads ~ B&N ~ Google Play ~ Kobo ~ Amazon
1912/1944/Present – Michigan
Stories of small-town Christmas and the enduring love of God from three critically acclaimed authors
In the sleepy small town of Mapleview, Michigan, Christmas is always something special. In this charming collection of romance novellas, join three generations of Mapleview residents longing for love–and finding it–on the most wonderful night of the year.
"Hopes and Fears" by Amanda Wen
Emma Trowbridge is determined to give her students the Christmas pageant of a lifetime. The last person she expected, or wanted, to encounter in her two-room classroom is her childhood rival, Frederick Oberstein. He would rather be far away himself. He wants no part of cheer, Christmas or otherwise. Can they learn to see each other in a new light–and embrace a new season of hope and faith together?
"While Mortals Sleep" by Janyre Tromp
While World War II rages overseas, news reporter Eleanor Sweers returns home to Mapleview to face the repercussions of the death of her sister and her nightmare of Christmases past. But the homefront isn't as far from the war as she thought: a bomb has landed in the middle of the U.S. Now Eleanor and family friend Gideon Braum may have to choose between the scoop of a lifetime and the love of a lifetime.
"The Wondrous Gift" by Deborah Raney
High school football coach Caleb Janssen and music teacher Rachel Hamblin bond when they both lose their jobs at a Christian school. But when they discover their plans for the future are mutually exclusive, the fallout threatens to tear them apart.