Shadow of Colossus (Seven Wonders Series #1)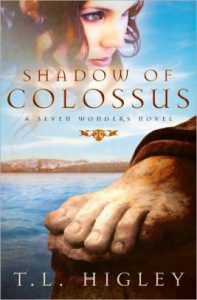 227 BC – Rhodes, Greece
In a world enslaved by money and power, one woman dares to be free. Will an explosive secret enslave her again?
The place is the island of Rhodes; the time, 227 BC. In the ten years that Tessa of Delos has been in bondage as a hetaeira, a high-priced Greek courtesan to a wealthy politician, she has learned to abandon all desire for freedom and love. But when her owner meets a violent death, Tessa is given the chance to be free—if she can hide the truth of his death and maintain a masquerade until escape is possible. Now Tessa must battle for her own freedom and for those she is beginning to love, as forces collide that will shatter the island's peace and bring even its mighty Colossus to its knees.
Here is a powerful story showing how the love of God can transform even the most hardened person and bring back to life a soul jaded by sin and grief.