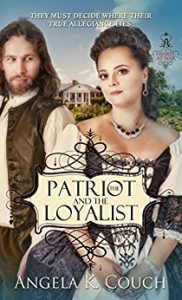 The Patriot and the Loyalist
1780 – South Carolina
Completing his three years in the Continental Army, Daniel Reid still has no desire to return home—not after losing the woman he loves to a British Captain—so he volunteers to ride south through enemy lines and deliver a message to Colonel Francis Marion, the Swamp Fox. With his temper needing a release and a dark haired beauty finding her way into his broken heart, Daniel decides to join the Swamp Fox's efforts against the British. Little does he know the British still have the upper hand.
Lydia Reynolds has learned that love comes at a price, and she refuses to pay. Better to close her heart to everything and everyone. When her brother-in-law won't grant her passage to England, where she hopes to hide from her pain, New Englander, Daniel Reid, becomes her only hope—if she can induce him to give her information about the notorious Swamp Fox and his troops. When the British grow impatient and Daniel evades her questions, Lydia must decide how far to take her charade. The poor man, already gutted by love, hasn't grown as wise as she. Or so she supposes.
Until the truth is known, the muskets are loaded;and it is time to decide where true loyalties lie.