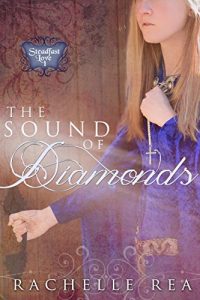 The Sound of Diamonds
 1566 – The Netherlands
Her only chance of getting home is trusting the man she hates.
With the protestant Elizabeth on the throne of England and her family in shambles, Catholic maiden Gwyneth seeks refuge in the Low Countries of Holland, hoping to soothe her aching soul. But when the Iconoclastic Fury descends and bloodshed overtakes her haven, she has no choice but to trust the rogue who arrives, promising to see her safely home to her uncle's castle. She doesn't dare to trust him…and yet doesn't dare to refuse her one chance to preserve her own life and those of the nuns she rescues from the burning convent.
Dirk Godfrey is determined to restore his honor at whatever cost. Running from a tortured past, Dirk knows he has only one chance at redemption, and it lies with the lovely Gwyneth, who hates him for the crimes she thinks he committed. He must see her to safety, prove to the world that he is innocent, prove that her poor eyesight is not the only thing that has blinded her—but what is he to do when those goals clash?
The home Gwyneth knew is not what she once thought. When a dark secret and a twisted plot for power collide in a castle masquerading as a haven, the saint and the sinner must either dare to hold to hope…or be overcome.