Then Came Hope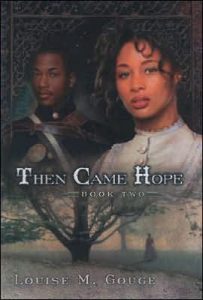 1860s – Several US States
Then Came Hope tells the story of Delia, who was born a slave and then physically and emotionally battered all of her seventeen years. Finally free, she strikes out on her own, making friends with a little band of former slaves and a handsome black soldier, Ezra Johns.
A long and arduous journey takes this rag-tag band of survivors through a violent flood, bitter southerners, hunger and exhaustion under a blazing summer sun, and even a murder charge and near lynching.
With the help of two humble farmers, they at last earn their train and boat fare to Boston. Back in his home city, Ezra works to complete his education. However, he discovers that despite his service to his country, black men still must struggle for respect and a place in American society. And Delia struggles to learn the mysteries of living in a large northern city.