Beyond the Valley: Daughters of the Potomac | Book 3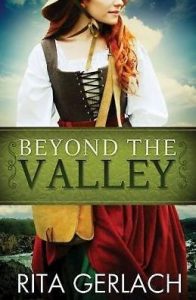 1778 – Maryland
When Sarah's husband Jamie drowns, her young life if shattered and takes a turn that she never expected. Pregnant and now widowed, she reaches out to Jamie's family for help but they are unwilling. Instead they devise a plan to have her kidnapped. She is deceived and taken aboard a ship headed for the Chesapeake to be sold as an indentured servant, bound to unspeakable hardship and forced into the same harsh world she left.
Caught in the talons of servitude, she falls in love with a young conscientious doctor, Alex Hutton, who has arrived in Virginia to care for his widowed sister in law and two young nieces. Called back to serve in Washington's army, he promises he will return for her, gain her freedom and wed her. Other plans were made for Sarah when her owner finds himself bankrupt and sells her the first chance he gets. She's taken out into the frontier, captured by Indians, and faces unbearable hardship.
When the mistress of River Run along the Potomac encounters Sarah's plight after she has escaped, Eliza Morgan pities her, and a way is made for Sarah to remain with her and care for Eliza's young daughter, Darcy. Revolution has ignited in America, and together they endure many hardships which bring them together in friendship. But when Sarah learns that Zachary Halston, a local landowner, has seduced Eliza, she is troubled about what to do.
Grateful for Eliza's kindness, Sarah is forever bound to keep silent. She promises Eliza to never reveal the secret that Ilene is Eliza's child, even at the risk of living a life in shame if her master should ever discover the truth upon his return.
Trapped in Eliza and Hayward's troubled lives, Sarah flees River Run. Will she make her way back to Alex and freedom as he searches the wilderness for her? Or will her hopes be crushed at the hands of the man who deceived her long ago in Cornwall when she faced destitution?