By Love Redeemed (The Chastelayne Trilogy)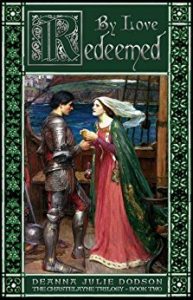 Medieval – Fictitious Kingdom
Complete strangers on their wedding day and separated by war since their honeymoon, can they find true love together?
Even though their time together has been short, Prince Tom is eager for his bride's return. Though his love for her has grown, Elizabeth makes it clear that she considers him a stranger, not to be trusted. Not to be loved.
Certain the lavish love he claims to have for her cannot be genuine, Elizabeth turns to a deceitful friend who feeds her doubts and insecurities, poisoning her mind against her young husband. Just as Tom's patient tenderness begins to soften her heart, he is left with a heavier burden. His brother the king receives news that threatens the stability of the kingdom and his marriage. Forced to go in secret to find the truth behind it, he leaves Tom to deal with the undercurrent of treason and treachery that lies beneath the deceptive quiet of the court. Will Tom be able to hold the kingdom together and win his wife's heart? Or will she let a seductive stranger lead her away from his unconditional love?