Highland Miracle – The Christian version of HIGHLAND WISHES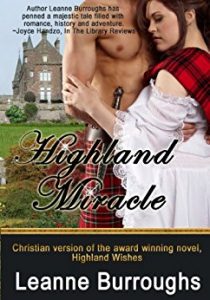 1296 – Scotland
A Highlander Obsessed
While the Scottish War for Independence rages, a young Laird heads to the Scottish-English border to avenge his father's vicious murder. The time for retribution has arrived. Rage tightly controlled, Grant Drummond presses forward toward the magnificent Norman-style manor to take its inhabitants by surprise.
A Woman Defiant
Victoria Blackstone tensed with a sense of foreboding. Her stomach knotted as she surveyed the large men surrounding her. Instinct warned her to escape. Her movements gave Grant Pause. As his grey eyes surveyed the woman fate just delivered into his hands, he smiled—first time since hearing the terrible news about his father's death.
Passion flares, but can love survive?
After kidnapping his enemy's daughter, Grant whisks Victoria away to Castle Drummond and there holds her hostage. They wage their own war—of strong wills and growing emotions. As the brutal strife intensifies between their countries, the lovers seek fleeting happiness in each other's arms. Torn by their differences, and with such enormous odds stacked against them, can Grant and Victoria's love survive?
Or is theirs a love to last through the ages?