Chri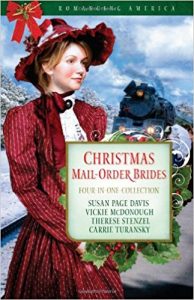 stmas Mail-Order Brides: A Trusting Heart/The Prodigal Groom/Hidden Hearts/Mrs Mayberry Meets Her Match (Romancing America: Wyoming)
1880s – Wyoming, Nevada, California
Three unmarried women contact Mrs. Mayberry's Matrimonial Society for Christians of Moral Character seeking husbands and travel the new Transcontinental Railroad hoping love awaits them.
In A Trusting Heart by Carrie Turansky, Annika Bergstrom, a Swedish immigrant, travels to Wyoming where her intended, Chase Simms, has disappeared, leaving his father and brother saddled with her future. When her groom returns, will her heart still be free to give?
In The Prodigal Groom by Vickie McDonough, Jolie Addams is orphaned and hired to work for a lecherous benefactor. She chooses instead to become a mail-order bride, but on the way to Nevada, her stage is robbed. She and a wounded passenger are stranded. They are rescued the next day, but Jolie's intended refuses to marry her after she spent the night alone with Clay Jackson. She and Clay are forced to marry. Can a relationship and love grow from such an awful beginning?
Also includes Hidden Hearts by Therese Stenzel and Mrs. Mayberry Meet Her Match by Susan Page Davis.