Claddaugh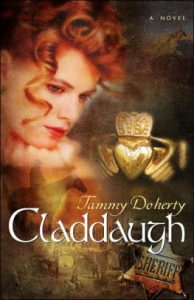 1880s – Colorado
"Every man is tempted, when he is drawn away of his own lust…"
Leigh Latham dreamed of marrying a man of wealth. When she chooses money over love, she turns her back on family and friends. But life doesn't go quite as Leigh planned.
"…it bringeth forth sin…when it is finished, bringeth forth death."
When the dream becomes a nightmare, Leigh flees Philadelphia. With nowhere else to go, she returns to the friends she left behind. Can she possibly hope to find forgiveness?
Marshal Rory Johnston thought he was over Leigh. Now he isn't so sure they can be just friends. Leigh is hiding something, running from someone. Can he protect her and his heart at the same time?
"Blessed is the man that endureth…he shall receive the crown of life."
Will history repeat itself? Or can loyal friendship grow into a love to last a lifetime?