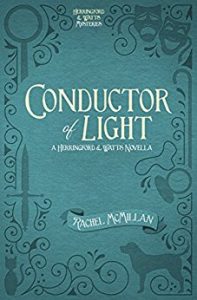 Conductor of Light
1912 – Canada
A seemingly forgettable evening of second-rate vaudeville entertainment proves lethal when Constable Jasper Forth and reporter Ray DeLuca witness the onstage death of the actor Stephano. Was this the performance of a lifetime or merely opening night of the next intriguing case for Jem DeLuca and Merinda Herringford?
Hiding from Toronto's dreaded Morality Squad in the back alleyway of the theater, Jem and Merinda encounter a mysterious musician who steps out of the shadows to tell them a murder has occurred inside.
Jasper and Ray join the detective duo backstage and begin to interview the rest of the troupe, a veritable casting call of possible suspects, every one of them with more motives than talent. Can Jem and Merinda foil this plot before a fatal encore ensues?
This Herringford and Watts adventure in four acts will keep you on the edge of your seat until the final curtain closes on yet another enthralling whodunit.
Save