Destitutio Quod Remissio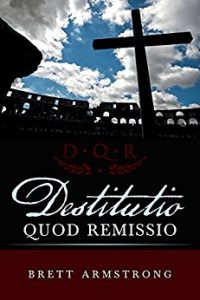 303 – Rome
For decades, Roman Senator Marcus Servius labored to become a wealthy and admired patrician man. But now, his world is shattered. After he is exposed as a Christian during a time of intense persecution, his home, wealth, and prestige are stripped from him. The most painful loss of all is that of his beloved wife, Cassandra. Destitute and wary, Marcus prays he will be delivered from his enemies' hands as he struggles to realize a new path.
In desperate need of help, Marcus disguises himself and embarks on a dangerous journey to find Benjamin Truvias, the leader of a hidden church and the man responsible for Marcus's conversion. After Benjamin offers aid, Marcus's life finally finds needed direction. Yet, the more he helps the church through persecutions, the closer he comes to finding who betrayed him. Caught in a maelstrom of intrigue and deception, should Marcus discover the awful truth of who caused his fall, he must choose between vengeance and forgiveness—a decision that will affect the fate of all the believers in Rome.
Destitutio Quod Remissio is the timeless epic tale of a man's struggle to rebuild his life amid ancient Rome after he loses everything he loves and his faith is tested in ways he never imagined.