In the Shadow of the Sun King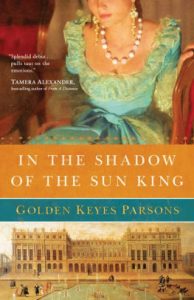 17th Century – France
Seventeenth century France is an unsafe time to be a Huguenot. By order of King Louis XIV, all French Protestants must immediately convert or face imprisonment—or death. The king's dragoons ferret out the nonconformists, pillaging villages and destroying homesteads.
When the king's soldiers descend on the Clavell estate, the family's fate hangs in the balance. Quickly, quietly, they send their two sons into hiding, trusting that the young age of their daughter will guarantee her protection. But the dragoons will not be dissuaded; they hold the manor hostage looking for clues of their guilt or innocence. However, Madeleine Clavell, the lady of the manor, holds a secret—one possible chance to save the family. She and the king share a past.
Once a beautiful young lady in the French court whom Louis loved, Madeleine travels to Versailles to plead for mercy from the fickle king, hoping to regain his favor and save her family. It's a gamble, but she is left with no other choice. Madeleine soon faces an agonizing decision—one that changes her family forever.