Kathryn: Days of Struggle and Triumph (Daughters of Courage)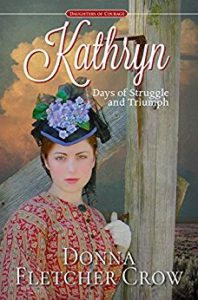 early 1900s – Idaho
Kathryn had never been short on courage. But untamed Idaho seemed poised to defeat her.
She looked out on a wilderness so hot and dry that the nearest fresh water was 15 miles away and the only thing that thrived was an endless sea of sagebrush that made a perfect home for rattlesnakes. Yet Kathryn Jayne was determined to do more than survive. She was determined to thrive.
And thrive she does — even when those nearest to her die, even when murder strikes her tiny community, and even when a dashing, irreverent Scotsman with a troubled past brings more turmoil to Kathryn's heart.
From the wilds of Idaho, to Edwardian London, to enchanting Scotland, this compelling novel records how Kathryn became an inspiration to her family and the foundation of the gripping Daughters of Courage saga.
Book One — Daughters of Courage Series