Lovelier than Daylight (The Saddler's Legacy Series)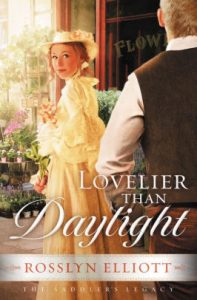 1875 – Ohio
Susanna is a lady of principles who values family above all. Johann seems to represent all she despises . . . but appearances can be deceiving.
In 1875, Susanna Hanby is headed off to college in Westerville, Ohio, when she discovers her sister Rachel and Rachel's children have disappeared. Susanna suspects that Rachel's alcoholic husband knows more than he's saying and she vows to uncover the truth.
Johann Giere is heir to a successful German-American brewery in Columbus, but longs for a career in journalism in New York City. When Johann signs on as the supplier for a new saloon in Westerville, his and Susanna's paths cross and sparks fly. A fiery temperance crusader, Susanna despises Johann's profession, but she cannot deny the attraction.
When Susanna learns that Rachel's children have been indentured to orphanages in the city, she despairs that her family will be fractured forever. But Johann makes Susanna an offer she can't refuse—pitting her passion and her principles against one another.
If she can find a way for her head and her heart to be in harmony, a future lovelier than daylight awaits her.
Lovelier than Daylight is a story of love and faith based on the Westerville Whiskey War of 1875, a dramatic real historical event featured in the 2011 documentary Prohibition by Ken Burns.