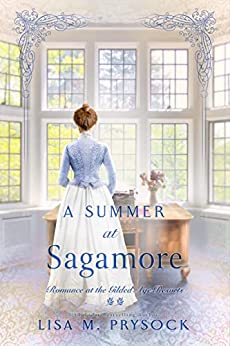 Goodreads ~ Apple ~ B&N ~ Kobo ~ Amazon
1907 – New York
Can summer love survive amid mystery and mayhem?
When Abigail Greenwood and her cousins settle in for their annual summer retreat at the stunning and impressive Sagamore Resort in the Adirondacks, all she wants is to spend as much time as possible plunking out stories on her typewriter. But when her cousins insist she join them in the tradition of choosing a beau to adore from a distance during their stay, she reluctantly plays along, setting her sights on a mysteriously quiet and aloof guest. What started as harmless fun soon changes as Abby finds herself captivated by debonair—and handsome—Jackson Gable. Who is he, and why does his arrogant amused smile exasperate her so much?
When a series of events causing mayhem and mischief begin to occur at Sagamore, journalist Jackson Gable is determined to get to the bottom of it, since his father is an investor of the resort. Jack has a nose for mysteries, but he may have to use his recently earned law degree and some of his posh family connections to sleuth out the culprit. Are the events connected? Why are they happening? And why can't he get the beautiful Abby off his mind?