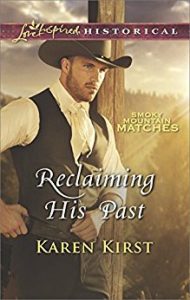 Reclaiming His Past
1885 – Tennessee
No Possessions, No Memories, Not Even a Name! 
The wounded stranger found on Jessica O'Malley's property has no idea who he is. And Jessica would be foolish to trust him after being proven so wrong about a former suitor who turned out to be a criminal. But Jessica's wariness toward the newcomer is soon turning to interest…and hope. 
Until he knows his true identity, "Grant" can't make a life in this quaint Tennessee town. He certainly shouldn't be thinking so much about the feisty redhead with beautiful, guarded eyes. But even as he fights to keep a distance from Jessica, his feelings for her grow. And he can't help but wonder if he'll want to return to his old life when his past is revealed.