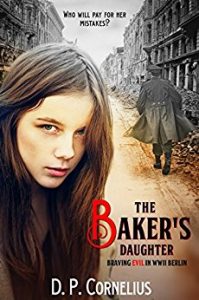 The Baker's Daughter – Braving Evil In WW II Berlin
1943 – Poland
While chaos reigns over WW II Berlin, seventeen-year-old Liddy returns to her family's bakery only to be confronted by a new customer — Keppler, a Nazi officer. Marek, a young man with a secretive past, labors just a few paces away in the kitchen, but where do his loyalties lie? With the Nazis? With Liddy?
Liddy's father, Klaus, secures a night job as a prison guard where anti-Nazi dissident, Dietrich Bonhoeffer, is being held. Klaus smuggles out the pastor's letters, but tensions rise as Keppler establishes a tenuous relationship with Liddy's young brother, Willy. Does the Nazi officer wish to recruit Willy, or is Keppler there to spy on Liddy's family?
From air raids to the Hitler Youth, Liddy becomes enmeshed in a world of spies intent on betrayal. When Liddy makes a critical mistake that endangers a loved one, she faces a decision that puts her own faith on the line and her family's safety in jeopardy.
Save
Save
Save