The Gift of Family: Merry Christmas, Cowboy\Smoky Mountain Christmas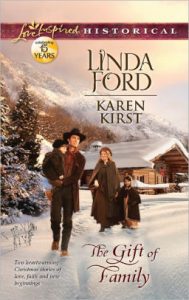 1880s – Canada and Tennessee Merry Christmas,
Cowboy by Linda Ford
 A wild snowstorm strands Colt Johnson in Eden Valley, where the storekeeper's daughter exudes welcome warmth. She's even offered to give the two orphans in his charge a Christmas to remember. An outcast, Colt doesn't dare hope for more—even though Becca's love would be a Christmas wish come true.
 Smoky Mountain Christmas by Karen Kirst 
 Cole Prescott's Gatlinburg visit will be just long enough to free his wife from their mistake of a marriage. Then he meets the daughter he hadn't known he had. Little Abby needs a father, especially at Christmastime. And all Cole wants is a chance to make a life with Rachel and Abby at last…
Save