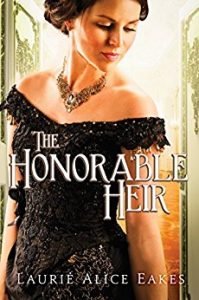 The Honorable Heir
1900 – New York
An American heiress and widow of a rakish English earl, Catherine has returned to New York high society determined to make amends for the scandal she caused when she crossed the Atlantic to elope with her best friend's suitor and win the title of Lady Bisterne. But a ruined reputation isn't the only thing that's followed her home: Lord Tristram Wolfe, the rightful heir to the Bisterne estate, has vowed to track down his family's stolen jewels—gems he's certain Catherine stole.
Catherine has more to think about than charming, handsome Tristram and his accusations, even if he's beginning to change her mind about never returning to England. Back at her family's Tuxedo Park estate, she resolves to restore her honor by earning the forgiveness of her best friend and protecting her younger sister from other fortune-seeking Englishmen with dubious titles, all while abiding by the etiquette of the Gilded Age.
Yet when Tristram's quest takes a dangerous turn, she must decide whether to follow the rules or save her accuser's life.