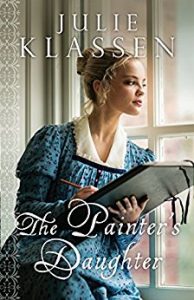 The Painter's Daughter
1815 – England
Sophie Dupont assists her father in his studio, keeping her own artwork out of sight. In private, she paints the picturesque north Devon coast, popular with artists–including handsome Wesley Overtree, who seems more interested in Sophie than the landscape.
Captain Stephen Overtree is accustomed to taking on his brother Wesley's responsibilities. Near the end of his leave, he is sent to find his brother and bring him home. Upon reaching Devonshire, however, Stephen is stunned to learn Wesley has sailed for Italy and left his host's daughter in serious trouble.
Stephen feels duty-bound to act, and strangely protective of the young lady, who somehow seems familiar. Wanting to make some recompense for his own past failings as well as his brother's, Stephen proposes to Miss Dupont. He does not offer love, but marriage "in name only" to save her from scandal. If he dies in battle, as he fears, she will at least be a respectable widow.
Desperate for a way to escape her predicament, Sophie finds herself torn between her first love and this brooding man she barely knows. Dare she wait for Wesley to return? Or should she elope with the captain and pray she doesn't come to regret it?