The Scroll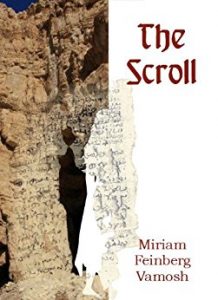 70 AD – Judea
A sensational but little known archaeological find, the divorce document of a woman named Miriam issued at the desert fortress of Masada is the basis for this new historical page turner. Beginning with a fateful decision by Miriam, a strong-willed survivor on Masada's final, horrific day, the tale spans three generations of her descendants. This saga extends from the depths of her despair on a barren desert plateau to the glittering city of Alexandria where Miriam sought love and a future, and back to the Holy Land, where, amid the clashing cultures at Beit Guvrin, the storied city of Zippori and, finally, at the emerald oasis of Ein Gedi, the past continues to stalk her, threatening to devour her children.
The Scroll is an adventure-rich voyage through the ancient customs and beliefs of Judaism and early Christianity and the challenges both faced in a hostile world. Readers are transported to the very roads and markets, palaces and hovels, synagogues and village squares of ancient Judea, where The Scroll's characters choose between nation and family, and finally, between life and death. Will Miriam's descendants learn the lessons of her life, or will enemies – within and without – rob those lessons from them?
Although The Scroll deals with events that took place two millennia ago, it sheds light which helps make sense of the complexities of today's Israel and the choices its leaders make.