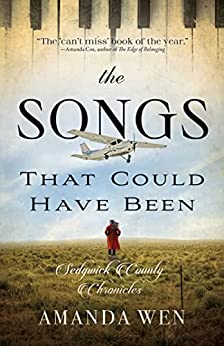 Goodreads ~ B&N ~ Kobo ~ Amazon
1950s/Present – Kansas
Two couples in love. Two sets of impossible circumstances. One powerful God of grace.
After a tailspin in her late teens, Lauren Anderson's life is finally back on track. Her battle with bulimia is under control, her career is taking off, and she's surrounded by a loving family. Then a chance meeting with Carter Douglas, her first love and the man who broke her heart, leads to old feelings returning with new strength. And suddenly her well-balanced world is thrown off kilter.
Now a TV meteorologist, Carter is determined to make amends with Lauren. After all, she still owns his heart. But the reasons they broke up aren't lost–and those old demons are forcing him toward the same decision he faced in the past. He isn't sure he's courageous enough to make a different choice this time around.
When Lauren's elderly grandmother, Rosie, begins having nightmares about a man named Ephraim–a name her family has never heard before–a fascinating and forbidden past love comes to light. As Lauren and Carter work to uncover the untold stories of Rosie's past in 1950s Wichita, they embark on a journey of forgiveness and second chances that will change their lives–and Rosie's–forever. Along the way they'll learn that God wastes nothing, his timing is perfect, and nothing is beyond his grace and redemption.