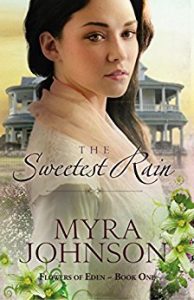 The Sweetest Rain
1930 – Arkansas
As the drought of 1930 burns crops to a crisp, Bryony Linwood dreams of cooling winter snows and the life she would have had if Daddy hadn't been killed in the Great War and Mama hadn't moved Bryony and her sisters to their grandfather's struggling tenant farm in tiny Eden, Arkansas. Now Mama's gone, too, and as times grow tougher, Bryony will do whatever it takes to ensure her family's survival.
Michael Heath barely survived the war, and twelve years later all he wants to do is forget. A virtual recluse, his one passion is botanical illustration. Lost in the diversity of nature's beauty, he finds escape from a troubled past and from his wealthy father's continual pressure to take an interest in the family plantation.
When Bryony accepts employment at the Heath mansion, it's just a job at first, a means to ward off destitution until the drought ends and Grandpa's farm is prosperous again. But Bryony's forced optimism and dogged determination disguise a heart as dry and despairing as the scorched earth . . . until she discovers Michael Heath and his beautiful botanical illustrations. As their relationship deepens, friendship soon blossoms into healing for wounded souls and a love that can't be denied.