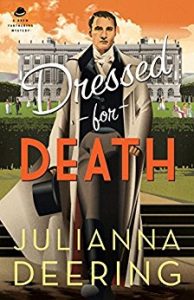 Dressed for Death
 1933 – England
A Regency-Era Costume Party Should Have Been an Amusing Diversion, But it Seems Wherever Drew Farthering Goes, Mystery–and Murder–Are on the Guest List

Drew and Madeline Farthering arrive at a Regency-era house party at Winteroak House, excited to be reunited with old friends, including Drew's former Oxford classmate Talbot Cummins. Tal is there with his fiancée, Alice Henley, and though many present seem worried about the couple, nobody is prepared when Alice dies from an apparent overdose. Tal refuses to believe she'd taken the drugs intentionally, and a dark question arises of whether the death is an accident or murder.
The police have their own information though, and Drew is shocked when they arrest someone he's trusted and admired since his childhood–someone who's been smuggling drugs into the country for years. Stunned by what has happened, Tal begs Drew to get to the bottom of everything, but Drew has never felt more unsettled. Questioning his own ability to see people as they really are, Drew doesn't know whom to trust, and he's not ready for the secrets he's about to uncover–or the danger he'll bring down on everyone he holds dear.