A Most Inconvenient Death (A Lord Danvers Mystery)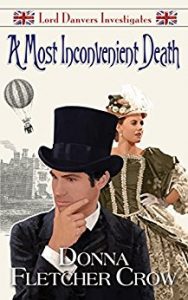 1848 – England
Lord Charles Danvers, still in mourning for his lost love Charlotte, hopes to find escape from his ghosts at the country estate of his oldest friend Sir John Boileau. The events surrounding the coming of age of Sir John's son and heir have much of Norfolk astir— until the peace of an autumn evening is shattered by a brutal murder.
The police are quick to point to a quarrelsome farmer, but Lord Danvers has his doubts. As the local magistrate, Sir John has an interest in the investigation. But is the real connection much closer to home? And does Danvers owe the greater loyalty to an old friend or to the truth?
Then, Danvers is even more unsettled by the entrance of the alluring Lady Antonia Hoover.
The first in the "Lord Danvers Mysteries Series," "A Most Inconvenient Death" is a Victorian true-crime novel. The Stanfield Hall Murders were the sensation they are portrayed to be, the elaborate coming of age celebrations and the ensuing dramatic trial are all recorded history.