A Stray Drop of Blood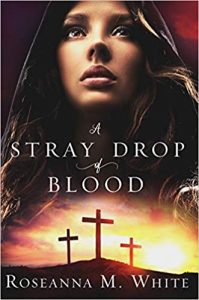 30 – Jerusalem, Rome
Beautiful is a dangerous thing to be when one is unprotected. That is a lesson Abigail learns well when her master s son, Jason, takes her to his bed. Jason s mother, Ester, may have educated her as a daughter instead of a slave, his father, Cleopas, may have obeyed Hebrew law rather than Roman in the running of his household, but none of that matters to their son. At least, it doesn t until he has a child of his own on the way.
Over her seven years in the Visibullis household, Abigail has gotten accustomed to being a slave. She loves her fellow servants, she adores her mistress, and she respectes her master. She does not welcome change, neither when Jason decides she is better fit for a lover than a handmaid nor when he discoveres he loves her too much to leave her as anything but a wife. But she carries his child, so she can hardly argue. And maybe, given time, she could come to love him too….
Israel s unrest finds a home in her bosom, but their rebellion tears apart her world. Death descends with Barabbas s sword, and Abigail is determined to be there when he is handed the penalty for the crimes that destroyed her family. But when she ventureds to the trial, heavy with child and heavier still with hatred, it is not Barabbas that the crowd demands be crucified. Instead, it is the teacher Cleopas and Jason had begun to follow, the man from Nazareth that some call the Son of God….
She was born free, made a slave, married out of her bonds. But she never really knew freedom until she felt the fire of a stray drop of blood from a Jewish carpenter. She was disowned by Israel, despised by Rome, desired by all. Yet she never knew love until she received the smile of a stoic Roman noble.