This month, I decided to feature a collection! I've had Gina Welborn and Carrie Fancett Pagels here for an interview so I decided to highlight Angela Breidenbach for this collection!
1880-1900 (US Turn of Century), 1900-1930 (US Early American) , AlLee-Jennifer, Breidenbach-Angela, Franklin-Darlene, Hickey-Cynthia, Pagels-Carrie Fancett, Stockton-Amber, Welborn-Gina , Novella

The Blue Ribbon Brides Collection

Meet nine men and women whose competitive goals take them to state and county fairs between 1889 and 1930. From baking pie to polishing pigs, from sculpting butter to stitching quilts, everyone has something to prove to themselves and their communities. But in going for the blue ribbon, will nine women miss the greatest prize of all—the devoted heart of a godly man?

Angela's story is: Seven Medals and a Bride

When the Montana women travel to Chicago for the World's Fair, they win seven medals for their scientific botanical displays and intend to find a bride for beloved miner, Luke Edwards… But for the up-and-coming botanist hired to care for the Montana display, Bettina Gilbert, mining is an offense scarring nature. How could she ever marry a man who would do that to God's green earth? With the shortage of women in Montana, Luke agreed to go manage the mining exhibition all summer because of the opportunity to find a wife. But that pretty botanist keeps disrupting his mining presentations… And his chances to meet the right woman! A city girl who despises his way of life would be the worst choice for a miner's wife, wouldn't she?
*******************************************************************************************************
Questions about Angela's Story
What inspired your story?
When I was researching my Montana Beginnings series, I ran across a blurb in an antique book that mentioned the Montana women earned seven medals at the Chicago World's Fair. I dug a little deeper and found out they'd created a massive display on botanical science unique to the brand new state of Montana—and they created a wave of national news at that time! I couldn't help it. I had to know more. So began my fun journey with Bettina, Luke, and the matchmaking ladies in Seven Medals and a Bride. Many of the cupids in this story are named after the true women who planned, implemented, manned the pavilion (meaning they traveled to and lived in Chicago for six months), and then brought home those 7 awards. In 1893, that was Herculean. But when I found out they'd achieved it all on 10% of the state budget and still brought home $2800 that went into the State Treasury plus $3000 in furniture? (The furniture is mentioned in the story, and by the way, graces many state buildings to this day.) Holy cow, I was astonished at the ingenuity and prowess. I had to remind people today of the incredible accomplishments of women who have gone before us.
What was the hardest part of your book to write?
Learning enough about botanical science, the schematics of the pavilions, and being historically accurate about the Colombian Expedition of 1893 to be able to write about them intelligently. But what I learned about the bitterroot flower that was featured in the display, Montana's state flower now, I was also able to use in yet another story, Bitterroot Bride. I find my research for one story often spawns another one and another one. So though it's sometimes hard, my research becomes valuable for more than one book.
Did you include a real historical character or incident in your story?
I included quite a few historical characters and incidents in Seven Medals and a Bride. The fictional characters are Bettina and Luke (and their families). The cupid ladies like Jennie H. Moore and Lydia Fitch were real women, though I attributed personalities to them only based on the few words mentioned in club and state documents. The Reverend Doctor F.D. Kelsey of Oberlin College was also a real person.
Were there any historical facts that you discovered in your research that made you change something in your story?
One unusual incident I include is an omnibus crash that happened on the morning of July 8th, 1893. An omnibus was a huge carriage that could hold 12-20 people, drawn by draft horses, it acted like a public bus. The crash was reported in the Chicago Tribune along with the Columbian Expo concert schedule I was researching. Because it was so unusual, and true, I had to use it in the story.
What research did you have to look up to make your character's professional decisions authentic?
I sat in the Montana Room of my public library reading quite old books searching for every snippet about Montana's participation in the 1893 World's Fair. I had to do a lot of definition searches when I found out it was botanical science!
Did you stumble upon anything in your research for this book that made you squirm?
The environmental argument between Luke and Bettina really stretched me personally. I had to dig into both sides of the argument and understand mining as a much more complex situation than just digging up the ground or causing poisonous tailings. People's lives were affected (and still are) in a myriad of ways. I grew to understand it's not even a pro or con situation. It's more like an octopus with major ramifications regardless of which way you go. I'm much more thoughtful about my response now.
*******************************************************************************************************
Questions about Angela's Reading
What Christian Historical Novel in your To Be Read pile is begging you to make time to plop down with it right now?

I have a couple of Tracie Peterson's books in my TBR right now, particularly the Sapphire Brides series. A Beauty Refined looks wonderful!

What was the last Christian Historical Novel whose characters stayed in your head days after you finished reading it?

Havah: The Story of Eve by Tosca Lee has heightened my sense of generational responsibility as a mother and grandmother and down even further.
Angela is giving away a copy of the collection and I'm giving away winner's choice of ebook of either of the books mentioned above. Enter the Rafflecopter below!
**If you don't want to enter Rafflecopter, tell me in a comment below: "I'm not entering the rafflecopter, but please throw me in the hat" so I can manually put you in there for a chance.**
Save
Angela and I are both involved in a huge 55 Christian Historical novels + Kindle Fire giveaway this week. If you sign up for her newsletter here, might as well go grab you an entry in this contest as well!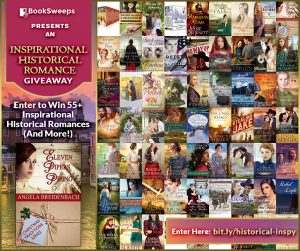 Save
Save