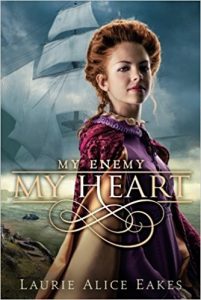 My Enemy, My Heart
1812 – At Sea (Caribbean)
The sea is Deirdre MacKenzie's home, and the crew of her father's Baltimore clipper is the only family she loves. She's happier wearing breeches and climbing the rigging of the Maid of Alexandria than donning a dress and learning to curtsy. But when the War of 1812 erupts, the ship is captured by a British privateer, leaving her father, the captain, dead. Deirdre watches her crew herded into the hold, destined for the notorious Dartmoor prison in England. Though her fate as a noncombatant is uncertain, she knows she must find a way to free her crew.
Kieran Ashford has caused his family one too many scandals. On his way to exile in America, he is waylaid by the declaration of war and a chance to turn privateer and make his own fortune. But he regrets his actions as soon as the rich prize is secured. Now his best chance at redeeming himself in the eyes of his family is to offer Deirdre the protection of his name in marriage.
But love and loyalty clash as Kieran begins to win Deirdre's heart despite her plot to betray him. Will Kieran's plan mend the relationship with his family, and can this fated couple find true love despite the secret lies between them?
Save