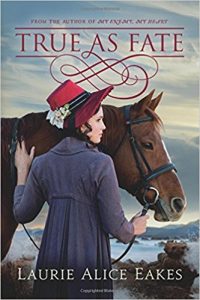 True as Fate
1816 – England
Lady Chloe Ashford detests going to balls, loathes social pretense, and finds the very idea of hunting for a husband obscene. But she has an even more scandalous secret: she once helped an American—the enemy—escape from Dartmoor Prison. Now, nearly three years later, Ross Trenerry is back—and in trouble again. So is her traitorous heart. He doesn't know she's the one responsible for sending him to a second prison, and she has no intention of telling him.
A former privateer, Ross has finally run out of his legendary luck. Only one woman lies between him and freedom. He desperately needs Chloe's help to prove he hasn't committed treason, but he's distracted by the passion that flares between them.
They set out on a cross-country adventure together to prove Ross's innocence, but peril soon dogs their heels. As they race to reach their appointed rendezvous on time, they must fight their growing attraction and focus on discovering who is behind this deadly plot. Will they finally admit their love and put the pieces together before it's too late?
Save