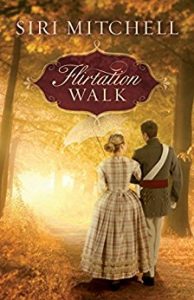 Flirtation Walk
 1855 – New York
Lucinda Pennyworth, the daughter of a con man, is trying her best to leave her father's sordid past behind her. When he dies unexpectedly, she takes the opportunity to move to West Point to live with her aunt, ready to take on a new life and determined to marry a respectable man, a West Point cadet, to impress her relatives.
                                                                                                              
Seth Westcott, a cadet at the academy, is proud to be at the top of his senior class. But when his mother dies and his sister loses their inheritance to a swindler, Seth wants nothing more than to head west to track down the con man. But the army will only send the cadets at the bottom of the class to the frontier . . . which leaves Seth with some tough choices.
When a woman trying her best to be good meets a man determined to be anything but, can there be hope for love, or will two lonely hearts be condemned to casual flirtation?