Hope's Design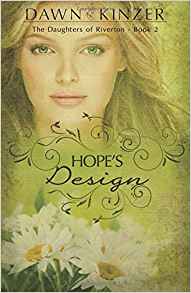 1904 – Wisconsin
In 1904, Hope Andrews, an aspiring fashion designer, struggles with leaving New York City. But with no job, her parents leaving the country, and an abusive ex-fiance refusing to accept their broken engagement, Hope doesn't have much choice but to give in to her parents' wishes that she move far away and live with her cousin indefinitely.
Talented Benjamin Greene can't deny his passion for painting, but guilt over a painful incident in his past keeps him from sharing his gift. Instead, he devotes much of his days to helping his younger sibling rebuild a farm inherited from a great-uncle. Only his brother is aware that Ben spends his spare time in a studio on their property.
In the small rural town of Riverton, Wisconsin, Hope and Ben can't help but be thrown together. But as feelings for each other deepen, tension thickens over how talent should be used. Their mutual passion for art brings them together, but will it also drive them apart?